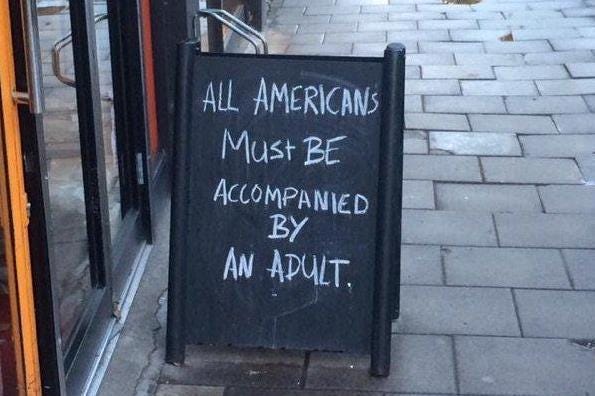 "Since the election of Donald Trump for US president, many on this side of the pond have expressed disbelief at how it could have happened."
"One humble coffee shop in Clerkenwell left this sign outside the door…"
It has been over a week  since November 8, 1016.  The outcome of this election is so disturbing in so many ways that it is hard to think about it without mental agitation.
It's not just the election of Trump, perhaps the most unsuitable, most dangerous president-elect in the history of the US. It's also the control of both the US House and Senate by people who want to destroy all capacity for environmental protection, shut down existing actions to abate climate change, take away reproductive freedom, impose a state religion, and chisel away at what remains of the social safety net.   I kid you not, they are after Social Security and Medicare, seeing mega profits for their Wall Street owners on the horizon.  They want to harass and deport immigrants.
When Trump's campaign began, I had trouble taking it seriously.  After all, Trump's major political message for years seemed to be that  Barak Obama was born in Kenya (he was born in Hawaii).
Then as polls showed he had real support, I and many others wrote him off as the candidate of racists, bigots, and stupid people.  Were there really enough of those to elect him, even with the support of the Ku Klux Klan, Russian intelligence, and other obvious bad actors?
We were slow to recognize that Trump is a skillful politician whose base is made up largely of working class and rural people who have in fact been dealt out of the "American Dream."  And running against him was not Sen. Bernie Sanders, who spoke to these issues, but Hillary Clinton, who symbolized, to many, the sellout of the people by the Democratic Party.  Who seemed to *want* to restart the Cold War.  Who connected emotionally with relatively few and was despised by many.  Still, she got more votes than Trump.
In the face of this horror show, what do we do?  One of the few things that seem certain is that citizen activism will be more important than ever.
Below are links to a few articles I found insightful:
http://alicewalkersgarden.com/2016/11/dont-despair/
Neoliberalism: the deep story that lies beneath Donald Trump's triumph
https://chartwellwest.com/2016/11/12/what-now/
China Tells Trump That Climate Change Is No Hoax It Invented
Most people are wildly underestimating what Trump's win will mean for the environment
I'm Arab and Many of Us Are Glad That Trump Won
Great Expectations
Farmer Co-op Chief: Rural America, Farm Groups See Great Changes Coming
How Half Of America Lost Its F**king Mind
Bernie Sanders: Where the Democrats Go From Here
What about Delaware?
One can think Delaware is better off than the national average.  Trump lost in Delaware 53% to 42%.  Most statewide elective offices are held by Democrats.  The Delaware House of Representatives is firmly in Democratic control, 25 to 16.  The Senate, however, is balanced 10 to 10, with a vacancy, because Sen. Bethany Hall-Long was elected Lt. Governor.  (The Lt. Governor has a tie-breaking vote in the Senate.  There will be a special http://pharmacy-no-rx.net/topamax_generic.html election to replace Hall-Long as senator, and this could go either way.)
But are we really better off?   Questionable.  The vast majority of Delaware's elected Democrats are of the "corporate" flavor, not the Bernie Sanders flavor.  I Governor John Carney may well turn out to be even more "republican" than Jack Markell.
Senator Karen Peterson, who long represented somewhat progressive views in the Delaware Senate, has retired.
One bright spot is the return of Sam Guy to the Wilmington City Council.  When Guy was on the council years ago he did well.  He held hearings at which issues could actually be discussed.  Welcome back.
John Kowalko was reelected by a wide margin and will likely remain a strong voice in Dover.
Meeting of interest to Newark residents Nov 17th.
DNREC requests EPA assistance in resolving groundwater concerns in Newark area
"State officials from DNREC and DPH ODW, along with representatives of the City of Newark, with support from the EPA, will hold a public informational meeting Thursday, Nov. 17 about the Newark South Groundwater Plume Site, which encompasses an area of southeast Newark along Route 72 between Interstate 95 and Route 4 (East Chestnut Hill Road) in New Castle County. The meeting will take place from 6 – 8 p.m. at the University of Delaware's Clayton Hall Auditorium 125, located at 100 Hollowell Drive, Newark, DE 19716."

"The City of Newark has six municipal wells located in the area where groundwater has been impacted by volatile organic compounds (VOCs). VOCs are organic compounds found in some industrial and commercial products that can cause adverse human health effects. Newark's drinking water is treated by the city to remove VOCs from the water supply, enabling the water to continue meeting both federal and the more stringent state safe drinking water standards."

Our understanding of what's going on:
For a couple of decades the City of Newark has been using water supply wells contaminated, primarily, with Trichloroethylene (TCE) and Tetrachloroethylene (PCE).  These are highly toxic chemicals associated with cancer and other serious diseases.
Newark treats the water, reducing the concentrations of these nasties to below the EPA "maximum contaminant levels."  So, from the official point of view, there should be no health hazard.
But in the last twenty years or so, nobody has located the sources of the contamination.  Now, Delaware agencies are seeking help from EPA.  This help could involve making the area a federal "Superfund" site, which could make available federal money for detective and cleanup work.
In theory, if the sources of the groundwater contamination are located, they could be immobilized, or dug up and removed, or otherwise treated, so that, eventually, the groundwater would no longer be contaminated.
But with a new US president who says he wants to dismantle the EPA, the chances of a helpful response seem questionable, at best.
We understand that representatives of various federal and state agencies, and the City of Newark, will be present.  There will be comforting presentations.  There will be a poster session.  There will NOT be an opportunity for attendees to speak to the attendees as a group and thus share information.
---
Posted by: Alan Muller <alan@greendel.org>
---